SOUP / STARTER RECIPES
Sweet Pepper & Carrot Soup
Serves 4 – An OGP signature recipe – as it contains capsicum and turmeric, it could help with inflammation if eaten regularly. Also a good source of beta-carotene which is converted to Vitamin A by the body, and vitamin C if the peppers are used fully ripe
INGREDIENTS
500g carrots
2 leeks
8 small sweet peppers
1 red onion
2 cloves garlic (diced)
1 litre vegetable stock
1 tablespoon coconut cream
Juice of half lemon
1 tsp oregano
1 tsp turmeric

Salt & black pepper to taste
Use a tablespoon of coconut oil to fry off the garlic and onions
Add stock and sliced carrots, sliced leeks and diced peppers
Stir in oregano, turmeric and salt & pepper to taste
Simmer for 20-25 minutes
Blitz with a stick blender to a smooth consistency
Add the coconut cream and lemon juice, mix into soup and serve
Spiced Organic Parsnip & Apple Soup
To prove making organic soup is easy, here is our own recipe soup, very scrummy, and warming on a cold Winters evening – could even be a Christmas Day starter!! This is a firm favourite in our house !!
Makes enough to feed 6, or you can freeze it in batches for use another time.
Fat free, sugar free, additive free.
Double click on  the picture to make it larger. Feel free to try it and share it with your friends on social media (but dont forget to tell them where you found it!!)
So you see it doesnt have to be difficult, making organic soup is easy
Sweet & Satisfying Soup
We really enjoyed this recipe !! Serves 4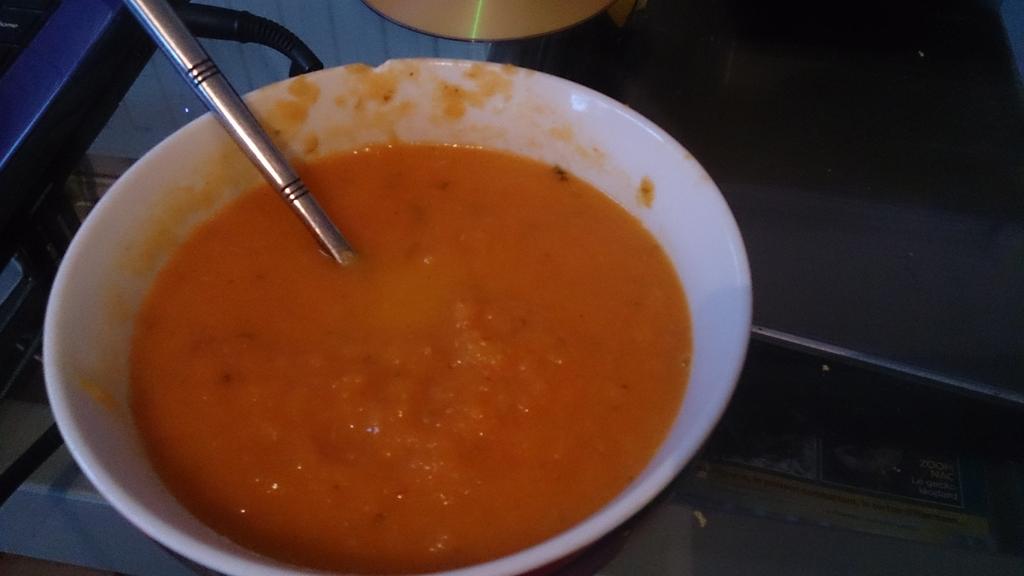 INGREDIENTS
750g raw carrots, chopped
850ml vegetable stock
Zest of an orange
1 whole orange, peeled & chopped
1 sweet onion, peeled & chopped
1 stalk celery, chopped
2 cloves of garlic, chopped
3-4 dates, pitted (adjust to sweeten)
1½ inch fresh ginger root
2 tablespoons coconut oil
1 teaspoon Himalayan salt (to taste)
Sautee onions, ginger and garlic in coconut oil
Add vegetables and stock
Simmer for 10-15 minutes
Whilst simmering zest the orange, then peel and chop. Chop dates as well
Add orange, orange zest and chopped dates
Simmer for a further 5 minutes
Add Himalayan salt to taste
Blend & serve – garnish with pumpkin seeds, hemp seeds or fresh coriander